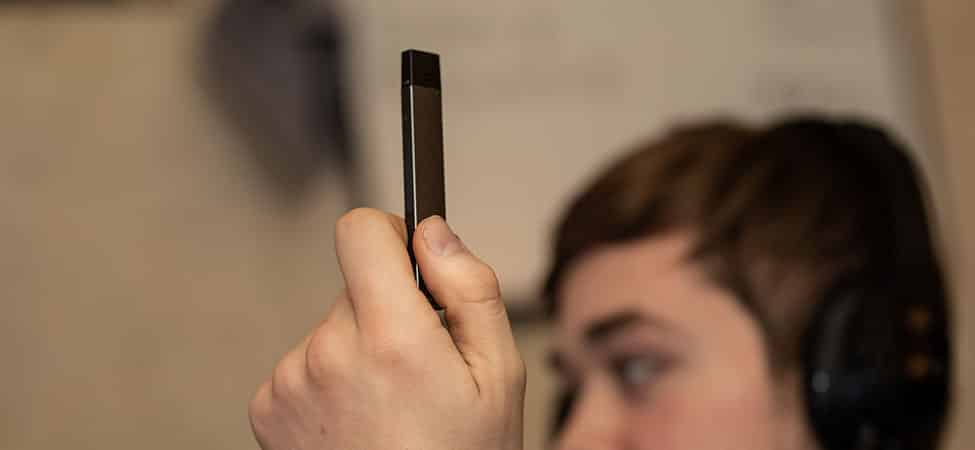 Vaping has emerged as a popular alternative to traditional smoking. Teenagers are particularly drawn to vaping, as it is considered "cool" and generally revered as an unharmful substitute for cigarettes, cigars, pipes, and other smoking devices. In reality, vaping poses quite the threat to users' health and well-being. The worst part is that the makers of e-cigarettes and other vaping devices typically market their products to teenagers. After all, the teenagers in generation Z and the twenty-somethings in the millennial age cohort are the customers most coveted by manufacturers of vaping devices, as these youngsters will have considerable discretionary income for decades to come. There is legal precedent for vaping device manufacturers to be found liable for user injuries. The law offices of Kisling, Nestico & Redick are focused on helping those injured receive the financial compensation they deserve. 
The Dangers of Vaping
Vaping is the inhalation and subsequent exhalation of a specific aerosol, commonly known as vapor. This vapor is generated by an e-liquid, also referred to as vape juice, when put into an e-cigarette, vape pen, vape mod, or another vaping device. These devices heat the liquid upon activation, releasing the aerosol/heated vapor for inhalation. Though vaping seems like a fairly harmless process, the truth is that it is quite dangerous in a number of regards. Consider the fact that more than a dozen e-cigarette explosion cases were tended to by Colorado's UCHealth burn center last year alone. Keep in mind that this is just one treatment facility in a single state. Countless vaping devices have exploded in other parts of the United States, as well as the rest of the world. Sadly, the vast majority of such vaping device battery explosions lead to significant user injury that proves quite painful and has the potential to result in lifelong scarring.
When e-cigs and other vaping devices explode, they do not merely generate a spark, temporarily warm the vaping device, and fizzle out. Numerous e-cig lawsuits have been filed after such explosions, as they have the potential to cause significant burning, along with harsh facial injuries. The bottom line is that every time you or your teenager uses a vaping device, it has the potential to explode, causing one or several nasty injuries. According to Consumer Affairs, the Food and Drug Administration found more than 130 reports of vaping devices exploding, overheating, or catching fire between 2009 and 2016. This figure is likely to increase, as vaping is becoming more popular with each passing year.
Vapor Consumption Might Have a Negative Impact on Health
The scientific community has not yet come to a consensus on whether e-cigs are a threat to human health. The bottom line is that health and science experts are unsure whether e-cigs have a negative long-term impact on health. This finding (or lack thereof) is bad news for those who currently use e-cigarettes, especially among those in the teenage age group who are likely to use e-cigs for years, decades, or indefinitely. The sad truth is that vaping devices tend to attract those who would otherwise be interested in smoking cigarettes, cigars, and pipes but seek a healthy alternative.
Researchers have found that youths who segue to traditional cigarettes likely would not have used nicotine in the first place if vaping devices did not serve as a gateway. Making matters even worse is the fact that e-cigarette companies are ramping up advertising spending. These companies spend hundreds of millions of dollars each year marketing their vaping devices to the masses. Unfortunately, the themes of rebellion and independence that these companies use in their marketing campaigns to push e-cigarettes are especially appealing to teenagers.
E-Cigarettes and the Law
One would think that the government would establish sensible laws to prevent vaping devices from causing even more harm. However, at the moment, there are no particular government regulations that the makers of e-cigarettes must submit to. There are no legal standards or required safety testing for e-cigarette product designs. Even the liquids used for vaping are not subjected to government regulations. This laissez-faire policy toward the vaping market is quite unfortunate, as it puts the general public at considerable risk. Adding salt to this wound is the fact that many of those who use e-cigarettes are teenagers or other young adults in search of a supposedly healthier alternative to conventional cigarettes, cigars, and pipes.
The lack of legal requirements to ensure the safety of vaping devices sets the stage for lucrative lawsuits filed by Kisling, Nestico & Redick attorneys. The federal government continues to drag its feet in this newly-developing area of the law, so it is imperative that you have an attorney on your side willing to fiercely advocate on your behalf. The bottom line is that harmful vaping devices are on the market and will continue to make it to market until the federal government implements meaningful regulations. Vaping devices will continue to combust, burn, and otherwise harm teenagers and adults for the foreseeable future. Kisling, Nestico & Redick is here to hold the manufacturers of vaping devices accountable for their negligence.
Lawsuits Resulting from E-Cigarette Use
There is a common misconception that e-cigarettes and other vaping devices are completely safe in all regards. Though e-cigs are certainly marketed as a non-harmful alternative to regular cigarettes, they are actually quite dangerous. Several e-cigarette users have allied with personal injury attorneys like Kisling, Nestico & Redick to file lawsuits after their vaping devices exploded or caused another form of harm. In certain cases, these battery-powered vaping devices have caused significant injuries. Though e-cigarettes are diminutive in size, they have the potential to cause a considerable amount of damage, especially when they explode when positioned near the mouth.
You should not have to deal with the fallout of a harmful vaping device simply because you wanted to vape rather than smoke a cancer-causing cigarette. If you feel as though your vaping device has harmed you in any way, do not be afraid to ask for assistance from an attorney. Kisling, Nestico & Redick can help you obtain compensation for this unfortunate incident. After all, these companies should be found negligent if the battery or other component of their vaping device explodes and causes an injury or harms the user in any other way. In fact, dozens of teen vaping lawsuits have been filed in the United States.
For example, Rachel Berven's e-cigarette combusted after she switched out the battery. Battery acid contacted Berven's body, leading to nasty burns and dental damage. Berven's unfortunate experience with her vaporizer is just one example of the many e-cigarette malfunctions in recent years. Consider the case of Vicente Garza. Garza's e-cigarette exploded when he was holding it near his face. Doctors had no choice but to amputate Garza's index finger and perform tongue surgery. Even if amputation or surgery is not required for damage to a limb or other body part, there is the potential for exploding e-cigarettes to cause severe burning. E-cigarettes have exploded in users' pockets, causing harsh burns along the legs, chest, and other areas.
Proving Negligence for Harm Caused by E-Cigarettes
The little-known truth is that an array of e-cigarette models have malfunctioned, leading to a flurry of lawsuits and several significant payouts. Though plenty of Chinese vape-makers – such as Kangertech, iPV Technology Co., and Sigelei – are mentioned in these lawsuits, the truth is that there is the potential for every single type of vaping device to combust or malfunction at any given time. It does not matter if the vaping device that harmed you or your teen was made in China, the United States, or elsewhere. Kisling, Nestico & Redick will spearhead your personal injury lawsuit, fiercely advocate for justice on your behalf, and help make you whole again. As long as your attorney can prove that the maker of the e-cigarette was negligent in some manner, it is possible to obtain considerable financial compensation for all related losses.
In many such cases, the problem with the vaping device is tied to the lithium ion battery that provides the device with power. These diminutive batteries have caused similar problems in other electronic devices in the past. For example, airlines no longer allow passengers to take hover boards on planes because the batteries within these devices have caught fire and combusted. Furthermore, similar batteries used in iPhones and other smartphones have combusted after periods of charging with third-party chargers. As long as Kisling, Nestico & Redick can prove that the maker of the device in question acted carelessly (negligence), there is a good chance that they will be able to win the lawsuit or at least obtain a sizable settlement on your behalf through negotiations with opposing counsel.
How to Tell if You or Your Teen Have Legal Footing for a Vaping Lawsuit
E-cigarettes have the potential to explode, burn, disfigure, and cause a number of other serious injuries. The bulk of these injuries result from exploding e-cigarettes. Such explosions can occur when you or your teen is using the vaping device or carrying it around on your person. Sadly, the harm caused by vaping devices tends to be quite severe. If you have any type of burn that you suspect is from your e-cigarette or other vaping device, contact Kisling, Nestico & Redick right away to schedule a consultation for a case review. It does not matter if the burn is a deep tissue chemical burn, thermal burn, or one that causes minor superficial damage to the skin; the mere fact that you were harmed by your vaping device sets the foundation for a successful lawsuit.
Particularly harsh burns have the potential to damage the bones to the point that you need months of treatment. Such treatment might require the use of painful grafts for skin and/or bone. In extreme cases, facial reconstruction might be required. Furthermore, more and more evidence indicates that vaping liquids are rife with toxins that spur lung disease and damage cells. Even if the physical damage caused by your e-cigarette is minor or moderate, Kisling, Nestico & Redick can still take legal action to seek damages for emotional pain or financial setbacks caused by the malfunctioning product.
How Kisling, Nestico & Redick Can Help
If you or your teen have been harmed by a vaping device in any way, do not assume that you are powerless. The legal team at Kisling, Nestico & Redick is here to help in your time of need. Schedule an initial consultation with Kisling, Nestico & Redick, explain exactly what happened, and your attorney will review the unique facts of your case in-depth. Be sure to bring along any medical reports and the malfunctioning device itself. Even a seemingly minor piece of evidence has the potential to tip the scales of justice in your favor.
Once the attorneys at Kisling, Nestico & Redick have the opportunity to review the details of your case, they will be able to determine if you have legal grounds for a lawsuit. If there is solid legal footing to file a lawsuit, Kisling, Nestico & Redick will do so on your behalf. Your attorney will represent you in and out of court in hearings, settlement negotiations, and so forth. If necessary, your attorney will engage in legal battle in a court of law to ensure that justice is served, regardless of how many court hearings it takes. However, if opposing counsel is willing to settle, your attorney will review offers and negotiate to ensure that you are provided with the money necessary to cover all related medical bills, as well as losses stemming from lost time at work, diminished working capacity, the loss of use of a body part, pain, suffering, etc.
If you have been harmed by an e-cigarette or other vaping device, you should know that legal help is a phone call away. If you are the parent of a teen injured by an e-cigarette, there is no sense in letting your loved one suffer in silence. Contact Kisling, Nestico & Redick today at 1-800-HURT-NOW to schedule an initial consultation to learn more about e-cigarette litigation and determine if you have legal grounds for a lawsuit.
Kisling, Nestico & Redick Law Firm Overview
As one of Ohio's fastest-growing law firms, Kisling, Nestico & Redick is staffed with over 35 attorneys to help Ohioans injured as a result of the negligence of other people and institutions. Kisling, Nestico & Redick has helped countless locals obtain justice in the past 15 years. All in all, the law firm has won more than $450 million in combined verdicts and settlements. Whether you have been wronged by an insurance company, another driver, an e-cigarette maker, or any other party, Kisling, Nestico & Redick can help. The firm's attorneys take great pride in their attention to detail and client-focused service.
Part of Kisling, Nestico & Redick's success can be attributed to the fact that a considerable number of its attorneys and support personnel segued over to the field of law after working in the insurance industry. Kisling, Nestico & Redick employees and support staff understand the strategies and tactics that insurers use. This unique insight has helped the law firm win countless cases and subsequently donate more than $375,000 to Ohio charitable organizations. Anyone who feels as though they have been wronged can find comfort in the fact that they will always have an ally in Kisling, Nestico & Redick.