Minimally invasive surgical techniques are growing in popularity due to the smaller the incision,  and shorter the recovery times for the patient. Smaller incisions are also easier for medical personnel to manage, safer for the patient, and can reduce the risk of infection. With the number of minimally invasive surgeries increasing, professionals like Dr. Ira Kirschenbaum are growing in need. This method is was formed in the 1980s and is rapidly changing along with computer-assisted surgeries (CAS).
How Minimally Invasive Surgeries Are Performed
Today, many minimally invasive surgeries are performed with advanced robotic systems. Biomedical engineers have created these robotic systems in order to give surgeons more control and a better line of vision during the procedures. This allows for doctors to perform safer, less invasive and more precise work. During surgery with robotic systems, surgeons operate at a console that is equipped with two types of control systems. The controllers maneuver four robotic arms. There is typically a high definition 3D image displayed on a color console next to the controller. The surgeon is able to see the exact positioning of the robotic arms in real-time. Computer software programmed into the advanced robotic system takes the place of traditional hand movements. The arms can move fractions of a millimeter, resulting in highly precise work. All of this can be accomplished with incisions that are just 1 to 2 inches long.  In addition to being done with robotic systems, minimally invasive surgeries are known for shorter patient recovery times and smaller incisions which in turn allows for patients to quickly return to their normal lives.
Benefits of Minimally Invasive Robotic Surgery
There are many benefits to the patient when a surgeon performs a minimally invasive surgery with the use of advanced robotic systems. One major benefit is the smaller incisions for accessing the area of the body that needs surgery. With a traditional surgical procedure, an incision of 4 to 6 inches or even longer may be needed. In a minimally invasive technique, the incisions are just 1 to 2 inches long. As a result, patients are able to ambulate and get of their beds in less time. Smaller incisions are less likely to rupture and less likely to need large staples for closure.
Patients also tend to experience less pain and shorter recovery times. There is less swelling in the area and less intrusion on sensitive nerves. When patients experience less pain from their surgery, they may not require the strongest pain relief medications or intravenous pain relief. Manageable pain is easier to treat.  Lower pain levels also allow patients to begin physical and occupational therapy at an earlier stage of recovery. Dr. Ira Kirschenbaum, a skilled orthopedic surgeon for joint repair and replacement procedures, offers this technique to the athletes he treats who cannot afford a lot of downtime after an orthopedic procedure. Dr. Kirschenbaum is the head of Orthopaedics at Bronxcare Health Systems in New York City and works to help patients achieve wellness through his orthopedic practice.
Another benefit to minimally invasive surgery is the lower risk of infection. Large incision sites require more intensive wound management. Smaller incisions heal faster and are less likely to become infected. A lower risk of infection means fewer surgical complications and a higher success rate of the procedure.
Shorter Hospital Stays
Most patients want to go home as soon as possible after surgery. A minimally invasive procedure also reduces the length of the time most patients need to spend in the hospital. This is especially true for shoulder, hip and knee repairs, and replacements. In the past, a patient could expect to stay in the hospital for a week after a knee or hip replacement. Many patients had to transition to an inpatient recovery facility for four to six weeks after a joint replacement. The minimally invasive techniques practiced by orthopedic surgery experts like Dr. Ira Kirschenbaum reduce the hospital stay after surgery and allow patients to go home instead of to an inpatient post-surgical recovery center.
Shorter Recovery Times
The length of time from surgery to recovery is important to patients. For college or professional athletes, quick recovery time is key in returning to their sport. Too much time off of the sport could result in a sullied career prospect for such athletes. Orthopedic surgeons such as Dr. Ira Kirschenbaum offer minimally invasive surgical repairs for athletes. These techniques shorten the amount of recovery time so that athletes can get back to their training, practice and playing schedules.
Less Scarring
Minimally invasive surgeries may also result in less scarring. The scars from these surgeries are less noticeable, which may be important to patients who have surgery on a more visible body part. Scars may cause patients to be self-conscious, and smaller scars mean more self-confidence. Another important aspect of reduced scarring is less internal scar tissue. Scar tissue is stiff. When its located near a part of the body that moves more such as the hip or knee, it can result in a considerable amount of pain and more complications. Minimal scarring allows patients to regain their full range of motion and strength in the affected joint, tendon or ligament after surgery.
Reduced Blood Loss
Blood loss is a serious complication of surgery. In an invasive procedure, surgeons must cut through a lot of layers of tissue, which can trigger blood loss in unexpected places and amounts. Too much blood loss may increase the length of a patient's hospital stay. Blood loss may also necessitate additional procedures, including transfusions. Patients who have a high blood loss during surgery might suffer complications such as anemia, which requires treatment to resolve. Excessive blood loss during surgery can have additional consequences, such as causing weakness and a delay of recovery in the patient.
General Medical Conditions Treated By Minimally Invasive Robotic Surgery
Talented surgeons use minimally invasive surgery and advanced robotic systems to treat many conditions. Some of the general uses of minimally invasive surgery include the removal of benign pancreatic lesions and benign and malignant liver tumors. The technique can also be used for pancreatic cancer and gallbladder cancer. Severe gastroesophageal reflux disease is typically treated with minimally invasive surgery. People in need of obesity surgeries such as gastric bypass, bariatric surgery or gastric banding may qualify for minimally invasive techniques.
Specific Medical Conditions Treated By Minimally Invasive Robotic Surgery
There are a variety of specific issues that minimally invasive surgery can help treat.  These include Lung Disease, Gynecologic diseases including cervical cancer, benign cervical disorders, ovarian cancer, ovarian cysts, Uterine Prolapse, uterine fibroids and Endometriosis. Patients with heavy uterine bleeding may have robotic cauterization and tissue ablation performed. Cancers of the head and neck, including thyroid cancer, are also often treated with robotic surgeries using minimally invasive techniques. Heart surgeons use the robotic systems to perform mitral valve prolapse repairs, atrial fibrillation surgery and repairs for atrial septal defects. Urological problems such as bladder, kidney and prostate cancer may be handled with minimally invasive robotic surgery. Kidney diseases including blockages, stones or cysts benefit from the technique. Nephrologists can also remove a kidney with minimally invasive robotic surgery.
Dr. Ira Kirschenbaum who specializes in knee and hip replacements has utilized these methods on patients. These techniques may be used for tendon and ligament repair in the shoulder, knee or hip. They may also be used for cartilage repair or replacement. In some patients, an entire joint can be replaced with this minimally invasive technique.
Although, not all minimally invasive surgical procedures are performed with the assistance of a robot, surgeons may also use endoscopic techniques or open surgical techniques.  In some clinics or hospitals, it might be referred to as laparoscopic, thoracoscopic, or keyhole surgery. In endoscopic surgery, an endoscope is used to reach the internal organs or tissues of interest. An endoscope is a thin, flexible tube with a camera on one end. The tube also has enough space for tiny surgical instruments to pass through it. The camera transmits a signal to a color monitor for the surgeon to view. Its done through small incisions. Today's technology has allowed for effective treatments and faster recovery times than traditional surgeries.
General Conditions Treated By Minimally Invasive Endoscopic Surgery
Surgeons use non-robotic, minimally invasive surgical techniques to perform several types of general surgery. Hernia surgery is typically performed with an endoscope. It is used to fix hiatal, paraesopahgeal, ventral or incisional hernias. People with severe gastroesophageal disease benefit from the technique. The removal of gallbladder, liver, or pancreatic tumors or lesions is performed with endoscopic surgical techniques. Surgeons also use minimally invasive endoscopic surgery for gastrointestinal and rectal conditions. Obesity surgeries such as gastric banding, bariatric treatment a gastric bypass may be done with an endoscope.
Specialty Surgeries Performed With Non-robotic Minimally Invasive Surgery
Specialist surgeons also use the non-robotic minimally invasive surgical techniques in order to care for their patients. Some lung diseases are treated this way. Uterine fibroids, ovarian cysts and benign tumors can be removed with endoscopic surgery. Endometriosis and vaginal prolapse can be treated with the technique. Women who need removal of the ovaries, uterus, cervix or lymph nodes may have their procedures done in this way. Heart surgeons use the technique for atrial septal defects, aortic regurgitation, aortic insufficiency, aortic stenosis and mitral valve repair. Vascular surgeons use endoscopic surgeries for treating varicose veins, venous insufficiency and peripheral vascular disease. Cervical disc hernias, lumbar disc hernias and degenerative disc diseases are treated this way. People with spinal trauma may have fusions or rods placed with an endoscopic technique. Disorders of the kidney, including stones, cysts, blockages and bladder incontinence may be corrected with endoscopic procedures. Patients having a living kidney donation performed may elect to have the procedure done with an endoscopic technique.
Cancer Surgeries Using Endoscopic Techniques
Oncologists use endoscopic surgical techniques to remove some lung tumors. The technique can also be used for brain tumors that are located on the base of the skull, including those that are on the front or back skull base. Malignant ovarian or uterine tumors may qualify for removal with endoscopic surgery. Urologists may treat prostate cancer with endoscopic prostate removal.
Arthroscopic Surgery
When a joint needs surgery with an endoscopic technique, the procedure is called arthroscopic surgery. Dr. Ira Kirschenbaum is a leader in this technique. In an arthroscopic surgery, an endoscope is fed into the joint through a small incision. As one of the most important surgical developments of the 20th century, arthroscopic surgery allows orthopedic patients to enjoy less swelling of the operative site. Arthroscopic procedures are associated with lower morbidity and better patient outcomes compared to open surgical techniques. Nearly all arthroscopic orthopedic procedures can be done on an outpatient basis, which lowers the costs for the patient and allows the patient to go home within hours after the surgery.
Orthopedic Conditions Treated With Arthroscopic Surgery
Orthopedic surgeons also use minimally invasive endoscopic surgery for their patients. A knee or hip replacement can be done in this way. People who experience a ligament or tendon tear in the shoulder, hip or knee may have the repair performed with an endoscopic surgery. Congenital malformations may also qualify for correction with this technique.
Choosing an Orthopedic Surgeon Experienced in Minimally Invasive Techniques
Not all surgeons have equally successful outcomes with minimally invasive techniques. If a patient is in need of a general or specialty surgery, it is important to research both the procedure and the available surgeons. The experience of the surgeon at performing minimally invasive techniques is critical to the patient's outcome. The more of this type of surgery a physician has performed, the more likely the patient is to have a positive outcome. Patients should inquire about the annual and total number of minimally invasive surgeries of that type the surgeon has performed. Patients should also ask whether the surgery will be robotic-assisted or endoscopic. With any surgery, there are risks. If a patient qualifies for a minimally invasive surgery, there are fewer risks associated with such procedures. Patients should always ask the surgeon about the risks of the particular procedure that they need. Experienced surgeons typically recommend surgery to a patient when the benefits of the procedure far outweigh the consequences of not having surgery.
About Dr. Ira Kirschenbaum
Dr. Ira Kirschenbaum currently serves as the Chairman and Director of Orthopedics at Bronxcare Health System in Bronx, New York. In his current position, he helped grow the surgical department 8 fold and outpatient services ten fold.
He began his education at Brown University, where he graduated magna cum laude in 1979. He later graduated from the Albert Einstein College of Medicine of Yeshiva University in 1984. Dr. Ira Kirschenbaum trained in adult hip and knee replacement and reconstructive surgery at the Albert Einstein College of Medicine. He also engaged in a research fellowship in cartilage and joint aging at the National Institutes of Health in Bethesda, Maryland. Dr. Ira Kirschenbaum continued his orthopedic training at several esteemed institutions, including the Rothman Institute in Philadelphia, Pennsylvania Hospital and Thomas Jefferson University in Philadelphia.
Career
Dr.  Kirschenbaum's medical specialties include orthopedic surgery and adult reconstructive orthopedic surgery with both endoscopic and robotic-assisted techniques. His particular area of focus is on correcting congenital problems of the knee, hip and shoulder, including joint replacement surgeries. Dr. Ira Kirschenbaum also performs surgery on people who have experienced an injury to a joint. He has cared for amateur, college and professional athletes with injuries of the knee, hip or shoulder joints, ligaments, tendons or muscles.
In addition to his clinical work, Dr. Ira Kirschenbaum founded the Medscape Orthopedics website, which was bought out by Medscape and was later acquired by GE and later by WebMD. Today, he serves on its Editorial Advisory Board. In his early years, he served as the Director of Orthopaedic Resource Management at Kaiser Permanente.
He has lectured extensively over process reengineering, information technology, and innovation design. With his experience conducting question and answer sessions and lecturing on orthopedic surgical techniques, Dr. Ira Kirschenbaum is comfortable talking with patients about their surgical options.  He also holds positions as the Chief Medical Officer for DTC Healthcom and as the Advisory Chief Program Officer for the Swiftpath Program. In the past, Dr. Ira Kirschenbaum served on the Board of the Arthritis Foundation in the Hudson Valley Region of New York. Since 2010, he has served on the Board of Directors for the EHR Project Team.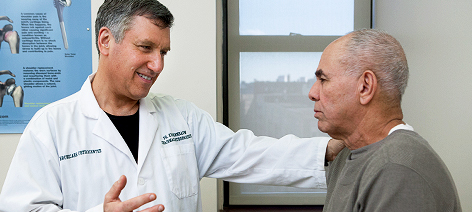 Accreditations and Memberships
In addition, Dr. Ira Kirschenbaum has been accredited by many medical boards and organizations, including the American Academy of Orthopaedic Surgeons, the American Association of Hip and Knee Surgeons, the American Board of Orthopaedic Surgeons and the Orthopaedic Research Society. He is licensed by the medical board of New York to practice medicine in the state. Dr. Ira Kirschenbaum has also earned many awards over his 34 years of orthopedics practice, including the 2001 James A. Vohs Award for Quality.
The medical professional has garnered a notable career through decades of experience where he has treated patients coping with a wide range of issues.